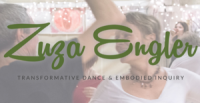 BODY AS LIVING PRESENCE: GESTALT PRACTICE ON THE OPEN FLOOR



3-weekend Committed Series | APRIL 19-21, MAY 24-26, JUNE 21-23



Are you looking for connection, community, depth, and a place to be "as is"? Join us for this 3-weekend series of Body As Living Presence—a dive into movement, inner inquiry, and creative expression.




Read more

on the

event webpage

.