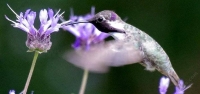 Seed Library is open from 9am-12pm in classroom at St Stephen's
Seed Garden Work Party from 9:30am-11:00am
Free class on Gardening for Pollinators in classroom at 11am!

Learn how to support more pollinators in your garden through site selection, design and habitat plants for all seasons in this free one hour class.Taught by pollinator enthusiasts Laurel Anderson, Jan Peterson and Alexandra McDonald.



While you're here, check out our SEED GARDEN and the more than 200 locally grown seed varieties available free at the Community Seed Exchanges amazing seed library!