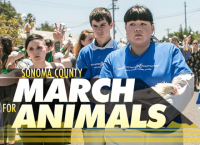 This Saturday, join hundreds of animal lovers in Sonoma County for a peaceful, family-friendly march and rally. Together, we will demand justice, compassion, and freedom for all animals! Recently, evidence of criminal animal cruelty has been exposed at factory farms in Sonoma County, and yet, the authorities refuse to take action.

Join us in demanding justice for animals at Sonoma County March for Animals.

We'll be meeting at Old Courthouse Sq. in Santa Rosa this Saturday at 12:30pm.