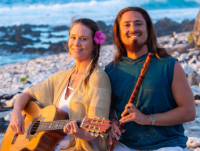 When

| | |
| --- | --- |
| Monday, April 1st; | 7:30 pm - 9:30 pm |

Where
Sirens Studio at Subud Hall 234 Hutchins Ave, Sebastopol
Cost
Price:$20 adv/$25 at the door. Front row seating $30.
Event Facebook Page Add to Google Calendar
lease join Jaya Lakshmi and Ananda for a sensational night of music, chanting and connection. Their music channels a powerful blend of modern and ancient soundscapes that touches the heart and invokes a meditative and connected state. They will be joined by Ben Leinbach on drums and Richard Cole on bass.

Price:$20 adv/$25 at the door. Front row seating $30.

In Sebastopol $20 advance tickets available at
Milk and Honey 120 Main Street
on line advanced tickets, please reserve here
18 and younger always free!

Videos of Jaya Lakshmi and Ananda:

-Chant and Heart Songs Concert Preview
https://youtu.be/hMDvUZjvJqA

-Calling Us Home
https://www.youtube.com/watch?v=JpJ0SfNSaZY&ab_channel=AnandaYogiji

-This is the Day
https://youtu.be/YOwoWsXFwjU?list=PLSNsLcRGFH5LP9-iQkGRzggdCp06IvUqM

-Gayatri (Official Music Video)
https://youtu.be/PGMw-EMVFhM

About:

Jaya Lakshmi and Ananda are Oregon based musical artists in the genre of mantra music. They offer a combination of kirtan (call and response singing), bhajan (devotional hymns) and original singer/song writer compositions in the languages of English, Sanskrit and Gurbani. Alternating guitar, harmonium, keyboard, bansuri flutes and vocal weaving, they create a profound healing and balanced sound current (Naad) brimming with bhakti (devotion).

Bio:

Jaya Lakshmi has been sharing her beautiful kirtans and bhajans for over 20 years. Steeped in the Gaudiya Vaishnav tradition (Radha Krishna bhakti path), she recorded her first four solo albums and toured mostly the west coast from 2000-2010. In 2010, a musical merging unfolded with Ananda Yogiji.

Ananda has been a dedicated practitioner and teacher of Kundalini Yoga as taught by Yogi Bhajan for sing 2007. He also completed and taught at numerous holistic yoga and leadership immersions at the Dharmalaya. (Dharmalaya is a holistic yoga, permaculture and meditation center in Eugene, Oregon, that is part of Ananda Seva.) In addition to his BA in international and sustainable business, he has a minor in East Asian Religions and studied yogic philosophy at the University of Oregon.

In coming together with Jaya Lakshmi, their love, music and sadhanas (spiritual practices) spiraled together. Bridging not only the two traditions, they incorporated many other facets in the great wisdom and bhakti traditions of the Vedas. Included in their influences have been the great hugging saint Amma, Paramahansa Yogananda, the Dalai Lama and many more.