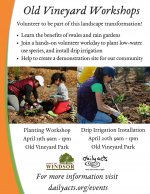 Come out to plant a water-wise habitat garden for our community and local critters to enjoy!

Last year we worked with the Town of Windsor and some wonderful community members to sheet mulch and install a rain garden at Old Vineyard Park. As a few months have passed it is now time to get to planting so that our garden space can benefit from the spring time weather and begin to grow! We need your help to get these plants installed; come out to learn what it took to get this space installed, and about the plants that were chosen. The skills you will learn are easy to apply at any site!

When: Saturday, April 13th 2019 | 9am - 1pm
Where: Old Vineyard Park, The corner Pinot Noir Way and Decanter Circle, Windsor CA
Cost: Free!