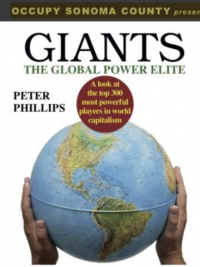 Occupy Sonoma County Presents

Giants: The Global Power Elite
with Dr. Peter Phillips



Sonoma State University Sociology Professor, founder of the Media Freedom Foundation and former director of Project Censore

d



Friday, April 5, 7-9 PM

Peace & Justice Center
467 Sebastopol Ave., Santa Rosa

Free with donations welcome

"Recognizing global imperialism as a manifestation of concentrated global wealth, managed by a few hundred people, is of the utmost importance for democratic humanitarian activists. We must stand on the Universal Declaration of Human Rights and challenge global imperialism and its fascist governments, media propaganda, and empire armies

.

" Peter Phillips

For more information

call 707-877-6650 or

go to OccupySonomaCounty.org.