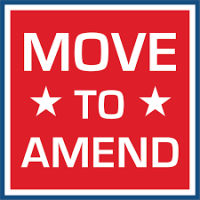 Move to Amend National Director Kaitlin Sopoci-Belknap is visiting Sonoma County next week. Join us for a presentation on the topic of abolishing corporate personhood, and getting big money out of politics!

When: Tuesday, March 12, 2019 - 5:00pm to 7:00pm
Where: Russian River Vineyards - 5700 Hwy. 116 N., Forestville
See map: Google Maps



Kaitlin will give a historical overview of how over a century of Supreme Court rulings have bestowed corporations with constitutional rights. She will explain how corporations having constitutional rights is the roadblock to the meaningful solutions we seek in healthcare, education, climate change, workers rights, clean air and water, and much more. Kaitlin will then address how we can mobilize locally to overturn this trend reverse the Citizens United Supreme Court decision and end corporate constitutional rights and money as political speech. This will be followed by a facilitated discussion and Q&A.

Learn how you can work to abolish corporate rule and establish a government of, by, and for the people by connecting to the Move to Amend campaign in Sonoma County!

Move to Amend is a non-partisan grassroots coalition calling for an amendment to the US Constitution to unequivocally state that inalienable rights belong to human beings only, and that money is not a form of protected free speech under the First Amendment and can be regulated in political campaigns.

This event is free and open to the public. Move to Amend finances these tours through the generous donations of event attendees.

RSVP and share with your friends on Facebook
Register to carpool
If you plan to attend please RSVP with Jan Weiner at

[email protected]

.