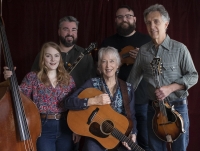 FRIDAY MARCH 8 at 7 pm.
Occidental Center for the Arts is pleased to welcome back Laurie Lewis & The Right Hands!

Grammy Award-winner Laurie Lewis is internationally renowned as one of the finest, most diversely talented acoustic folk artists in traditional Americana and bluegrass music today. A tremendously gifted songwriter with an exquisite voice who is also a whiz on the fiddle and acoustic bass, Laurie has recorded nearly 20 acclaimed albums in a number of musical formats. She was a founding member of the Good Ol' Persons and the Grant Street Band and has performed and recorded since 1986 with her musical partner, mandolinist Tom Rozum. www.laurielewis.com

Her latest album, The Hazel and Alice Sessions, with her band The Right Hands was nominated for the 'Best Bluegrass Recording' Grammy in 2017. Laurie has been twice awarded Female Vocalist of the Year by The International Bluegrass Music Association.She has paved the way for many young women artists, and has produced albums by young Bay Area musicians such as Melody Walker and the T Sisters. She is also a committed music educator, teaching at prestigious camps, festivals and workshops around the U.S. and Canada. Consummate singer, songwriter, fiddler, bandleader, producer and educator.

"Laurie Lewis' songs combine passion and sheer craft in a way you don't hear often. Whatever country music is supposed to be, she's at the center of it." Utah Phillips

The Right Hands features Tom Rozum on mandolin, fiddle and guitar and harmony vocals. Patrick Sauber, Brandon Godman, and Haselden Ciaccio round out this accomplished and talented ensemble.
It doesn't get much better than Laurie Lewis & The Right Hands at OCA's intimate acoustic sweet spot!
$28 Advance/$32 at the door. Reservations advised. Fine refreshments available include wine and beer. Art Gallery open during events. Wheelchair Accessible. www.occidentalcenterforthearts.org. 707-874-9392.