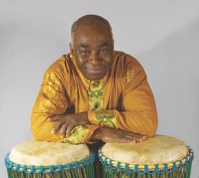 O.C.A. is pleased to present an inspiring evening of Afro world beat music performed by renowned Nigerian master percussionist Onye Oneyemaechi and The Messengers, a primal Afro beat band that finds its roots in the spirit of ancient Africa. Made up of seasoned Bay Area musicians such as Joel Bennett (Batacha), Onye & the Messengers excel at showcasing not only the technicality of Afrobeat's polyrhythmic sound, but also the genre's intuitive and creative flair, and the group expands on that creativity with jazz and world music embellishments.

Onye is a celebrated virtuoso of African rhythm music who creates original compositions that blend tribal rhythms with contemporary music influences. This multicultural blend of hypnotic trance-dance music re-creates the tribal world village celebration of body and soul; with influences of African rhythms, funky blues and jazz, reggae, rock and world music. www.villagerhythms.com



Onyemaechi moved to the North Bay in 1989 and founded Village Rhythms as a way to present drumming and music in a multitude of educational programs for individuals, businesses, schools and other organizations around the world. Seeing music as a tool for community building and self-empowerment, Onyemaechi often performs at school assemblies and promotes a joy of learning in his youth programs.

You will not want to miss this electrifying Afro world beat band that will move your body and soul with authentic tribal beats and spirit!! $15 Advance/$19 at the door.



Dance space! Fine refreshments. Black History Month Exhibit in OCA Art Gallery.