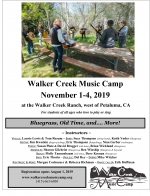 Join us for the Music Camp that
your friends and neighbors are talking about!

Learn to play Fiddle, Guitar, Banjo, Uke, Dobro, Bass, Mandolin, and more.

Faculty: Professional performers and experienced teachers, many of whom you might already know!
_________________________________________________



NEW THIS COMING FALL...

Ukulele class with Del Rey!
_________________________________________________
What's so special about this program?


Instruction for all levels, even a program designed specifically for young campers




Group instruction + one-on-one.

Ages 4 and Up to...

Other classes and activities include

Clogging (dance)

Jug Band (fun and funky)

Hambone (you'll have to discover!)

Singing

Snacks, and delicious, healthy meals

more dancing, more fun

Our special music & more instructors, Morgan Cochneuer and Becca Richman, will introduce your beginner students to the fun and beauty of playing music with friends, and help your slightly-older students improve their skills.

For beginners: bring your own instrument or borrow a fiddle. Focus is on basic skills and simple melodies.

Intermediate and advanced: will get more challenging melodies, functional theory, ornamentation, advanced techniques, simultaneous playing/singing/dancing, band arrangements, and improvisation.

Note: Preschoolers welcome if they bring their parents with them.

Older kids (pre-teens) are welcome to come as teachers assistants. Find out about Morgan and Becca.

From beginner to advanced Guitar, Mandolin, Bass, Banjo, Dobro, Fiddle, Vocals — and classes in Old Time, Bluegrass, Irish, with detailed classes that focus on things like Clawhammer Banjo, Bluegrass Mandolin improvising and technique, ensemble playing, how to accompany vocals, expanding and gaining confidence in your vocal repertoire...and Much, Much More!




Three levels of classes to participate in, from beginner to experienced "jammer "
Fall dates are November 1-4, 2019

Need more info? Check out our FAQ page.

While you're exploring, check out our Walker Creek Music Camp Song Book and even hear the tunes.



WE HAVE LOANER INSTRUMENTS - Ask about it!
Registration opens August 1st
Giving back to the community


At every camp, we give scholarship assistance and work trades to anyone who needs it and wants to come to camp. In this way, we have provided this enriching musical experience for many lower-income musicians, especially children and young people.