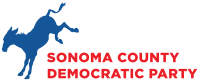 This is a critical election. The existing delegates, all members of The Progressive Slate, and being challenged by a new slate more aligned with and recruited by our elected representatives. You will have a chance to choose 7 men and 7 women who most closely align with YOUR priorities.

All Registered Democrats are eligible to vote for delegates to the California State Democratic Party

* You can register as a Democrat on site.
* 1 minute speeches start at 10:15.
* Voting starts at 10:45 and goes until 12:45
* There will be lines
* It is fun and you will feel more involved with the Democratic Party!
* there is a chartered bus that will drive up from Marin Civic Center.
* AD10 includes ALL of MARIN, parts of Sonoma (Petaluma, Sebastopol, some of Santa Rosa...)
* If you want to know if you are in District 10 go here: https://findyourrep.legislature.ca.gov/

more info here.