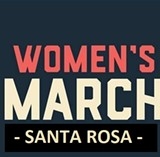 2019 Women's March Santa Rosa in Courthouse Square on Saturday, January 19, 2019 – 10AM to 1:30PM will feature a March, Rally, Guest Speakers, Community Groups tabling, Music and more.



The 2019 Women's March Santa Rosa will rally and march in support of women's rights, human rights for all, equality for LGBTQi+, freedom of religion & press, education, gun control, the environment, science, democracy and civil rights. While we have seen success in the 2018 mid-terms, Women's March Santa Rosa continues in 2019 as our civil and reproductive rights are continually being threatened and we stand united with all those who fight for equality, justice and freedom for all.





The 2019 Women's March Santa Rosa is free to all including non-profit community groups wishing to table at the event. Diverse and inclusive in nature – this event is meant to be an opportunity for all to come together, connect, be inspired and explore meaningful ways to take action.





Schedule:





10 - 11AM Courthouse Square open with community groups tabling, sign-making, children's area and music





11 - 12PM Program of Speakers (not in order of appearance)




Rabbi Stephanie Kramer - Congregation Shomrei Torah




Victoria Fleming - Santa Rosa City Council Member District 4




Esther Lemus - Windsor Town Council Member




Marta Cruz - Cloverdale City Council Member




Celeste Austin - Director of Special Programs, The Living Room




Nicole Myers-Lim - Executive Director, California Indian Museum & Cultural Center




Jayden Lim - Youth Tribal Ambassador, California Indian Museum & Cultural Center




Lyndsey Rose Burcina - Curriculum Developer, Metta Center for Nonviolence




Mandy Brooks - North Bay Women in Music Collective





12 - 12:45PM March in Downtown Santa Rosa





12:45 - 1:30PM Community Groups and music available in Courthouse Square





WMSR is a 100% volunteer run event. This local event does not receive any funding from WM National (DC Chapter). Donations and support from our local community will be utilized to help cover the many costs associated with the rally and march and to ensure it is safe and accessible to everyone in our community. Thank you to those who so generously donated in 2018, those funds are being used to get this event off the ground and additional donations will be accepted at the 2019 event.





Appreciations to our sponsors: Commission on the Status of Women of Sonoma County, National Organization for Women Sonoma County Chapter, Recology Sonoma Marin, Santa Rosa Cinemas, Santa Rosa Democratic Club, Women Spaces on KBBF 89.1FM, Beer Coffee & Beer, Made Local Marketplace and Peace & Justice Center Sonoma County (fiscal sponsor)



For more information on the event, tabling or to volunteer please contact

[email protected]





For more information about the pre-event on January 10th, a free community film screening of Women's March - A Documentary about Democracy and Human Rights go to:



https://www.facebook.com/events/1948655945170305/



Thank you for your support and participation.