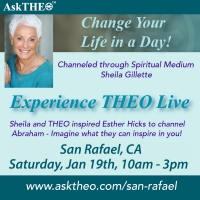 Being present, "live" in person,

with the energy and wisdom of THEO is an

en-LIGHTening experience, one that's expanded exponentially by all those feeling called to participate . . .

"I experienced THEO last year when they came to San Rafael, and for me, THEO was one of the most cutting edge, informative, and high level spiritual experiences that I have experienced in person in a long time. I highly recommend it!" Debra Giusti

Discounted ticket price if purchased by January 17!



EXPECT THE EXTRAORDINARY





Imagine spending a day immersed in the feeling of connection and exploration, a place where you feel safe and appreciated and space to discover more about YOU, a day exploring our world and beyond.





Gift yourself this special day with hosts Sheila Gillette, channel of THEO, and her partner Marcus Gillette, as THEO leads us in a sacred environment where together we'll open our hearts and embrace more of our spiritual nature. This event will meet you where you are and support you to create more connection to your intuition and guidance and discover how to make better life decisions. And – you'll have SO much fun doing it!





EXPERIENCING ASKTHEO™ LIVE IS SAYING 'YES' TO CO-CREATING ADVENTURE!





What guidance THEO will share and what

ah-ha's

are to come we cannot predict, yet we know gathering in person always creates an expansive and enlightening experience. The energy is amazing!





Event Ticket includes lunch!