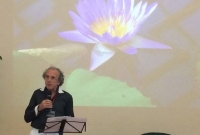 Public Lecture




with Siegmar Gerken, Ph.D.




Love is the Resonance with

theFlow

of Live.




Embodiment, Personal Development, the Flow of Life and the State of Love





Topics like the 'Brain on Love' and others gain much popularity these days. We would like to know how we function so that we may just 'rewire' our brain and can 'switch on' to love again, by special techniques, substances or other reductionist approaches. However, we are body, feelings, mind and consciousness/spirit. Love as the resonance with the flow of life unifies all these aspects and therefore affects every state of our life.





A person in love will communicate and create from a place of harmony, well-being, peace, aliveness and a sense of fulfillment. In this state we open for new choices in feeling, thinking and behavior.





In this lecture Dr. Gerken will give a comprehensive overview to the topic of love, embodiment and personal development and will present some of his own energy-field research in Infrared-Analysis and Biophoton Measurements to document that we are all fields of experiences, existing in many levels of reality in which integration and healing have to be addressed.