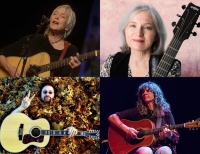 Friday, January 18 @ 7 pm. Occidental Center for the Arts is pleased to present


'

Words and Music'
with Laurie Lewis, Don Henry, Claudia Russelland Nina Gerber.



Join us for a night of outstanding music when three celebrated, award-winning singer/songwriters trade favorite tunes in a Nashville-style song circle, accompanied by virtuoso guitarist Nina Gerber.

Don't miss this special collaboration of talent at Sonoma County's acoustic 'sweet spot' OCA!

$25 Advance/$28 at the door.

Reservations advised.

Fine refreshments available. Wheelchair accessible. Art gallery open for viewing.

707-874-9392

www.occidentalcenterforthearts.org

.

3850 Doris Murphy Ct. Occidental, CA. 95465.

This concert benefits a non profit arts organization staffed by volunteers.