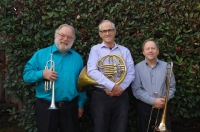 SATURDAY JANUARY 12 @ 3 pm. Occidental Center for the Arts is pleased to present two fine local chamber music groups in a benefit concert for OCA titled 'Winterlude' ! !
Coastal Winds features Daniel Celidore, oboe; Jeff Chan, clarinet; Miranda Kincaid, bassoon; John Lounsbery, horn and Valerie White, flute. Pianist Alice Chan will accompany a Mozart work.
Coastal Brass features Roger Dixon, trombone; Tom Hyde, trumpet; and John Lounsbery playing horn. Pianist Sonia Tubridy will join trombone soloist Dixon on a Joseph Jongen work.
$20 Advance/$25 at the door benefits O.C.A. Fine refreshments available. Wheelchair Accessible. Art Gallery open. 3850 Doris Murphy Ct. Occidental, CA. 95465. 707-874-9392.