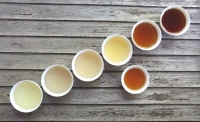 Tea 101: A Tea-tasting Workshop
Conducted by Many Rivers Staff
Saturday January 19th 2:00 pm

Whether you are a long—time tea aficionado, or a newbie to the world of tea, it can be fun and instructive to taste as wide a variety of teas as possible in one tasting. For this tasting, we put aside any narrow focus, and go for the gusto of the full range of tea palate experiences that tea can offer. Of course we can't be comprehensive when we have to settle on 6—8 teas to taste, nevertheless we can promise some genuine palate shifts within the set of teas that we taste. Our tea-tastings are convivial affairs, with sharing of information, opinions, etc. about tea. It's both fun and educational to the palate to taste teas in quick succession. Check it out!