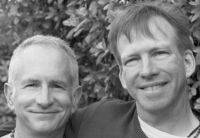 To Create and Sustain a Habit of Open-Heartedness

Rob Schmidt, Ph.D., and Stuart Goodnick, Many Rivers founders

Thursday January 3rd 7:30 pm The meme of our time is obsession with human perfection.

Focusing upon perfection, we soon find how we fall short of our high standards in so many ways. This leads to fixation on our compulsive habits and a gnawing sense of restlessness operating just below the surface of our awareness. As part of consumer culture, the personal growth industry offers the illusion of simple fixes through acts of will. Yet how many customers truly find what they seek?

In contrast, genuine spiritual traditions offer training in the Alchemy of the Heart that transforms unconscious habits into food for a genuine expansion of consciousness. Unlike the transaction of a weekend workshop, this training cannot be bought, but must be paid for through a sustained commitment. Join us for a discussion of how a sustainable habit of open-heartedness, in contrast to a habit of grasping after growth, might be created.

Rob Schmidt

, Ph.D., and

Stuart Goodnick

co-direct

Tayu Meditation Center

, owner and operator of

Many Rivers Books and Tea

. They studied the Alchemy of the Heart intensively with Tayu founder Robert Daniel Ennis.