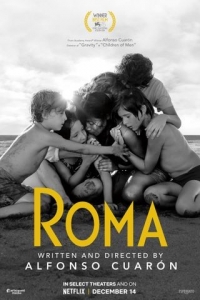 "No film that I will do is meant to be seen in a telephone, you know. If somebody chooses to see it like that well that's their choice but I hope that people who care about the art of cinema, they will want to see it in a big screen. As I hope that, please if you happen to see Roma, please try to see it in a big screen." - Alfonso Cuaron speaking at the BAFTA Screenwriters Series




Alfonso Cuaron's semi-autobiographical ROMA is an immersive, compassionate technical masterwork that, though set in the 1970s, speaks directly to contemporary Mexican society. Cleo (Yalitza Aparicio) works as a live-in maid and nanny for an upper-middle-class family in Mexico City's Roma district. When the family patriarch departs for an unusually protracted business trip, his wife, Sofia (Marina de Tavira), is left at home. While Cleo helps Sofia take care of the children, she is dumped by her self-absorbed boyfriend after he discovers she is pregnant. As both women face the possibility of single motherhood, it's obvious that their disparate levels of social status will differently impact their possible futures. Shot on 65mm digital black and white, ROMA subtly explores these ethnic and class divisions with a potent sense of emotional intimacy and historical acuteness.



"Cuaron has made his most personal film to date. The blend of the humane and the artistic within nearly every scene is breathtaking. A masterful achievement in filmmaking." - rogerebert.com

Special Note:

Sun, Dec 16 after the 4pm screening there will be a Panel Discussion with ALMAS


Show will benefit ALMAS (Alianza Laboral de Mujeres Activas y Solidarias) - the domestic worker group of Centro Laboral de Graton. ALMAAS works to build the individual and collective power of domestic workers in Sonoma County as leaders and agents of change in their struggle for rights and dignity; as women, as immigrants and as workers.