Occupy Sebastopol Evolves
By Shepherd Bliss
WaccoBB.net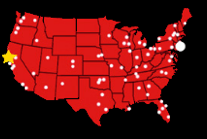 The second month anniversary of Occupy Wall Street (OWS, #OccupyWallStreet), November 17, was celebrated around the United States and the world, including in Sebastopol.

Sebastopol's City Council called a special meting on that day to respond to Occupy Sebastopol's (OS) request for a permit to continue its encampment in the plaza. Over two-dozen people spoke to a full room at the Youth Annex in favor of Occupy's presence, with only one opposing it.

OS opened the Council session by presenting a Peacetown Compromise that was tentatively reached at its governing General Assembly the day before and was scheduled to be ratified soon. "We will disband all sleeping tents within 48 hours and agree not to have people sleeping in the park," the agreement circulated and read by Ariel Janda concluded.

The compromise is an attempt to reduce "unnecessary friction" and "focus on the core issues and free expression." It requested that the City allow the group to have a tent enclosure to protect its educational resources and table.

City Council member Sarah Gurney proposed that the Council adopt a resolution in solidarity with the Occupy Movement. Though a binding vote was not taken, all five Council members--at the end of the three and a half hour meeting--seemed to concur.

In addition to the youth-generated OS members supporting the group, some older skeptics reported that after early reservations about OS, they had come to respect it. One observed that every time she drives by the town square the occupiers are doing things like sweeping it and cleaning dishes. Some of the long-time activists present testified with tears about how gratified they were to see so many young people getting involved in politics.

"Sebastopol is unique and Occupy Sebastopol is unique," observed Council member Patrick Slayter. For example, though over-night occupiers are technically violating an ordinance, there has been universal praise for Police Chief Jeff Weaver. On Veterans' Day he came to an OS meeting with a plate of brownies donated by the Veterans of Foreign Wars (VFW). Many veterans have been on the frontlines of Occupy Wall Street groups around the country, including in Sebastopol.

Everyone at the meeting seemed to want to avoid a confrontation, such as has occurred in Oakland, New York, Portland, and elsewhere. Though such violence in large cities gets more publicity, there are many Occupy sites in smaller and medium-sized cities around the U.S. that do not have such violence.

"In our encampment we have been taking care of people," OS lawyer David Bush, 44, noted. "This movement is still a baby," added the father who sometimes brings his toddler daughter to meetings. "We don't even know what it is yet. Occupy is a community. We come to city government to ask you to join our movement." Many have noted that Occupy is a living organism.

The tensest time at the meeting was between two lawyers, OS's David Bush and Mayor Guy Wilson. Whereas the meeting began in harmony and was able to get back there at the end, their interaction was the most contentious of the night.

It revealed two different paradigms—the rule-based representative government of the Council and the consensual, dialogue model of direct democracy practiced by OWS groups around the U.S. that call American back to its founding principles.


By the end of the meeting, rather than continuing to repeat themselves again, the two arguing attorneys seemed to soften. The City's attorney, Larry McLaughlin, maintained a more cool demeanor as he supported the First Amendment rights of political expression.

Mayor Wilson and the Council showed flexibility and openness after hearing from many in the public, its own staff, and its five members. The final minutes of the meeting expanded to a genuine back-and-forth dialogue been the elected officials and occupiers, which lead to more laughter and waving of fingers above the head, a sign of agreement used by OWS participants. "We are building a new relationship here," Council member Gurney noted.

"Power to the Peaceful!" read one sign held up at the Council meeting.


Shepherd Bliss currently teaches at Sonoma State University and Dominican University in Northern California, where he teaches a course on U.S. History. He has run an organic farm for the last 20 years, contributed to a couple of dozen books, and can be reached at

[email protected]

.