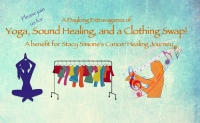 You are invited to a day-long extravaganza of

yoga, sound healing, and clothing swap!


Join us for any or all parts: come to whatever is most resonant.





This event is a benefit for Stacy's cancer healing journey.



11:45-12:45 TriYoga with Stacy Simone

1-2:30 TriYoga with Kai with live gong and singing bowls by Cassiopeia during yoga nidra

3:30-5:30 Clothing Swap for all genders

6-7 Sound Healing Journey with Blue Muse Sound Healing & The Celestial Voice



Suggested donation $20 per piece or $60 for whole day.




Donate whatever you can – no one turned away for lack of funds.





Cash and cheques accepted at the door. Advance / Card donations can be made any time via GoFundMe:


https://www.gofundme.com/stacy039s-cancer-healing-journey


If you wish to donate but can't make it to the event you can also do that with this link.





Stacy is a local healing arts practitioner and community event organizer. She was diagnosed with stage 3 breast cancer in January 2018.





Our intention is to manifest six thousand dollars to pay for a special, genomic test to help Stacy determine the best course of treatment. Recently it was determined that the conventional treatment that Stacy has been less successful than expected. This test will help guide us to the best and most effective treatments moving forward.