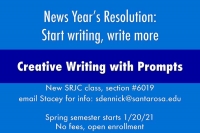 SRJC Creative Writing, no fee, no grades, no hassle.

Spring semester begins January, 20, 2021

Offered at two times:
• Wednesdays, 1-3:30pm (OAP 502, section 7273)
• Fridays, 9 am – 11:30pm (OAP 502, section 5876)
Join our on-going class of writers of all stripes: fiction, memoir & non-fiction. All levels are welcome. We begin class with a brief inspirational reading, then have a short talk on an aspect of writing craft such as getting started, point of view, writing dialogue or editing. Students read their works in progress (if they want to) and receive kind and useful feedback.

• Fridays, from 1-3:30pm (OAP 502, 6019) Creative Writing with Prompts New
The instructor will provide a variety of writing prompts designed to spark your imagination. These could be a word, a phrase, an image or an idea. After writing non-stop for 10, 15 or 20 minutes, we might read some of our in-class writing aloud (always optional), and there will be brief talks on aspects of writing craft, but most class time will be spent writing. If you want to start writing, or to write more, this is the class for you! Open to all levels.

Instructor: Stacey Dennick,

[email protected]

, (415) 246-1227

Held via Zoom. Use a computer, tablet or phone to participate.

Instructor's Bio: Instructor Stacey Dennick holds an MFA in Writing from the University of San Francisco. Her classes promise to be lively and informative, with an emphasis on fun interactions & crafting new work. Stacey's published works include news pieces for KRCB North Bay Public Media, technical stories and humorous memoir. See www.sdennick.com for clips.

SRJC offers noncredit courses for seniors as part of its goal to provide lifelong learning.



For information on joining a class please visit: https://older-adults.santarosa.edu/join-class.
No age limit for Older Adults Program courses, though they are tailored for seniors.
Students may register at any time during the semester.
No fee for Older Adults Program courses.

· Contact instructor for enrollment details:

[email protected]



The Sonoma County Junior College District does not discriminate on the basis of race, religious creed, color, national origin, ancestry, ethnic group identification, physical disability, mental disability, medical condition, genetic condition, marital status, sex, gender, gender identity, gender expression, genetic information or sexual orientation in any of its policies, procedures or practices; nor does the District discriminate against any employees or applicants for employment on the basis of their age. This non-discrimination policy covers admission, access and treatment in District programs and activities--including but not limited to academic admissions, financial aid, educational services and athletics--and application for District employment.