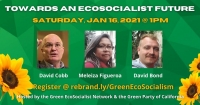 Towards a Green Ecosocialist Future
Three-part series –
Saturdays, January 16th, February 20th, April 10th, 2021, 1:00 p.m. Pacific Time



TO REGISTER: https://rebrand.ly/GreenEcoSocialism

Come participate in a deep dive into Eco-Socialism and learn about how the capitalist status quo deprives us of our human rights and aspirations. The first presentation in this 3-part series is an introduction to Eco-Socialism vs. Capitalism including a discussion of what Eco-Socialism may mean to you.

The two following presentations in this series will build on the first event and will be held on Feb. 20thand April 10th, 2021 (details to follow). Presentations will focus on Eco-Socialist platforms and programs and institutions that are being built around the country to shift away from our capitalist systems and into a just, sustainable future.

The status quo hit a tipping point in 2020, the capitalist's political and economic systems vastly enriched the largest corporate interests, while climate emergencies, racial injustices, political unrest, economic collapse, and a pandemic have raged through our communities.

We and our children won't survive this status quo. We must promot alternative economic systems that are decentralized, ecologically sound, socially just and built through community controlled, democratic workplaces. These decentralized systems are often referred to as ecological socialism.
The world we need and deserve is not only possible, it is an imperative.


This series has been organized by Green Party members throughout the state, including members of the Green Party of Sonoma County. It has been created to be of interest to more than members of the Green Party, so be sure to invite interested friends!


Hosted by the Green Ecosocialist Network, the Green Party of California, the Green Party of Sonoma County and many more county Green Parties. Locally co-sponsored by Occupy Sonoma County.