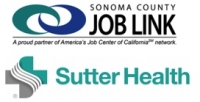 eventbrite.com/d/online/sutter-health/

Job seekers will learn about clinical and non-clinical positions in nursing, administration, business and support services, as well as resume and interview best practices.

For more information about employment at Sutter Health Affiliates, visit jobs.sutterhealth.org. Sutter Health is a nonprofit healthcare provider with multiple locations as part of its network.

Sonoma County Job Link is the one-stop career center for job seekers and youth ages 14-24 and the workforce solution for employers looking for qualified job applicants.

Part of the County of Sonoma Human Services Employment and Training Division, Job Link is located at 2227 Capricorn Way, Suite 100, Santa Rosa. Bilingual Job Link staff are available Monday through Friday, 8 a.m.-5 p.m., by phone at (707) 565-5550 and in-person during limited hours from 8 a.m.-noon. Workshops, vocational counseling and other supportive services are accessible at the Job Link website at www.caljobs.joblinksonoma.org. Sonoma County Job Link is a partner of America's Job Center of California network.