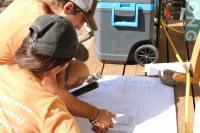 In 2020 over 3,500,000 acres have been burned by wildfires in California alone (Center for Disaster Philanthropy). Firefighters are working tirelessly to protect communities; families and wildlife are fleeing to escape the heat and suffocating air quality; our planet is on fire. How did we get here? Where can we go now?
Fortunately, there are professionals working to learn from each disaster and educate our public on how we can adapt and advance in light of these natural disasters.

The Resilient Landscape Coalition (Sonoma Ecology Center, Habitat Corridor Project, Master Gardener Program of Sonoma County) is diving deep into understanding the science behind recommendations for the defensible space around structures from fire fighters to scholarly research. Three members of the coalition will join this webinar to discuss environmental ecology, fire code and fire wise landscape elements. They will focus on the 0-100' around homes, especially those in the WUI (Wildlife Urban Interface). There will also be real examples of California native gardens that have been designed with fire in mind including rebuilds from the 2017 fires.



Please, join this webinar and help our communities learn how we can rebuild in a more thoughtful and resilient manner.