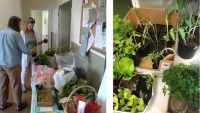 2nd & 4th Tuesdays through October 27th, 5-5:45pm:



Bring starts or excess produce from your garden to share or trade.

We'll be wearing face masks and keeping at least a 6-foot distance between each of us. Please put on clean gloves or sanitize your hands prior to unloading your starts/produce and when you are packed up to leave the exchange. Please follow the directions of the exchange host when putting out your starts/produce and when looking for items you would like to take.

We encourage gardeners to plant extra so that we are able to donate produce throughout the season to our local food pantries and community members who are in need of healthy food.