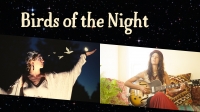 Bring in the spring equinox with an evening of music in dedication to the winged ones and the Great Turning. Jen Myzel will be sharing her brand new, booty-shakin', soul-stirring album, Birds of the Night!! Jen will be joined by a full band, including Iranian & Bosha gypsy-heritage violinist, Lydia Violet. Samara Jade will share a set of her beautiful, heart-opening "philosofolk" songs, many of which come from her newest album Wave of Birdsong. And to kick it all off, we will be guided in a spring equinox bird-sit in the meadow outside the Grange at 6:30 PM by a local bird language teacher. This event is hosted by Megan Eberhardt of Sebastopol Community Sings.





6:30 PM ~ Guided Bird-sit in the Meadow




7:30 PM ~ Samara Jade: Wave of Bird Song




9:00 PM ~ Jen Myzel: Birds of the Night Album Release





More About the Bird Songstresses...





Jen Myzel's music is soulful, activating, wise and family-friendly, from spoken word protest music to ritualistic hymns, hip-hop dance grooves to sultry lullabies about love and the cosmos. Jen is a weaver of poems, vocal harmonies, finger-picked guitar melodies and stories. She will weave you in her spider's web of wisdom and unravel you less of your story and more of your true self. Jen is both humble and fierce. Sweet and spicy. Raw and polished.





Jen is a dedicated servant to life on Earth, and her music reflects her seven years of study with deep ecologist, Joanna Macy. In addition to her songwriting, Jen Myzel is an elementary school music teacher, climate justice activist, and author of the children's sing-a-long book, Yellow Lotus Flower.





In these times of great turmoil, Jen's songs help to tell a new story for humanity, while never allowing us to forget where we came from.





~ ~ ~ ~





Samara Jade, currently with Jumpsuit Records, is a modern folk troubadour and musical seamstress who stitches together a unique tapestry of sounds with intricate guitar playing and an acrobatically emotive voice. Weaving diverse musical strands colored by folk, jazz, blues, world-fusion and even Broadway musicals, Samara's songs cut through truth, open hearts, stimulate minds, and perhaps best fall into the nutshell of a fan-coined genre: "Philosopholk."





Inspired deeply by the brave spelunking into the depths of the human psyche and listening sharply to and appreciating the wonders of the natural world, Samara's music comes from the place where her soul meets the soul of the earth. Bird language, fermentation, natural burials, heart-break - who can broach such a vast array of quirky yet relevant subjects wrapped in a bundle of personal narrative, expressive delivery and musical expertise but Samara Jade? Leave it to Samara to slyly pick up a thread of an interesting conversation and come back an hour later saying "I have a song" - and likely it's one that gets you dancing, laughing, crying, singing along - perhaps all at the same time.





~ ~ ~





Truly musical medicine for the times we're in, Jen and Samara's songs both cry out the personal and cultural longing for belonging - to each other, to our souls own path, and to the natural world.





So please join us in celebrating the Spring Equinox with this very special evening of Birdsong!!!





$15 in advance




$20-25 at the door





No one turned away for lack of funds.