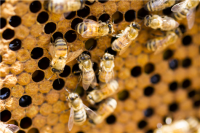 WHAT'S THE BUZZ??

Honey bees....

What we know, their struggles and perils, and what YOU can do to help!

Come learn some fun facts about honey bees! The Sonoma County Beekeepers Association will be here to talk about this MOST IMPORTANT pollinator with a fun, interactive presentation. Topics to include:

Hive make-up
day in the life of a bee
their problems and challenges
and some ideas how each of you can aid in their survival
Afterward, we'll have time to answer all of your questions. Hope to see you there!