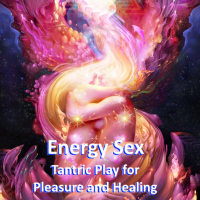 **This workshop has been changed to a virtual event**

---- There will still be experiential exercises and time for individual participants to share, ask questions, and receive expert coaching and guidance! ----

** Would you like new ways to create massive pleasure in your partner with their clothes on? (no touching even required)
** Would you like to change the way you approach pleasure and intimacy with a partner where there is no limits on the amount of pleasure and connection you can experience?

** Would you like to enhance your lovemaking skills and your ability to create good feelings in yourself and your partner in and outside the bedroom?

If So... This Class is for You!!!

In this 6-Hour Tantric Energetics Class You Will:
-Learn How to Use Your Energy to Create Massive Pleasure in Your Partner
-Learn How to Give and Receive Full Body Orgasms with Your Clothes-on (touching optional)
-Learn Ancient Techniques to Awaken Bliss in Your Partner's Entire Body
-Increase the Amount of Pleasure You Can Experience Beyond Anything You Ever Imagined Possible
-Learn How to Feel and Direct Energy in Your Partner's Body to Transcend into New Levels of Sex and Lovemaking

Singles, couples, all ages (18+), all genders, and all orientations are welcome. This is a safe, conscious, sex-positive, body-positive healing space created for your learning and self-expression of your true desires. All exercises are clothes-on.

If you're ready to enhance your skills as a lover beyond anything you ever imagined possible...

Click Here and Learn Energy Sex!!!

*Early Bird Pricing Ends March 2nd.

Facilitated by Jan Robinson and Macaya Miracle

Click Here and Learn Energy Sex!!!

Other Tantra Events in Sebastopol that weekend:

Intro to Tantra - Techniques and Embodiment Playshop
Friday March 20th - 6:30 PM - 10:00 PM

Energy Sex - Tantric Play for Pleasure and Healing
Saturday March 21st - 11:00 AM - 5:00 PM

Tantric Techniques for Everyday Ecstasy
Saturday March 21st - 7:00 PM - 10:00 PM

Tantric Keys to Women's Sexuality - A Class for Men and Women
Sunday March 22nd - 12:00 PM - 3:00 PM

*** Come to all 4 Events and Receive a Discount ***

Click Here and Come Play!