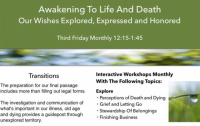 When

| | |
| --- | --- |
| Thursday, February 20th; | 12:15 pm - 1:45 pm |

Where
Burbank Heights and Orchards Community Room Sebastopol
Cost
Suggested Donation $10.00 per workshop
Event Website Add to Google Calendar
Join us in this interactive workshop series to explore what matters most to you in your living and in your dying. Death and Life are intimately woven and inseparable.Transformation through our life transitions is preparation for our final farewell. The values we cultivate and the ways that we shape a meaningful life are influenced by a broader perspective of our journeys. To prepare for our ending at the approaching of our death is a lost opportunity.





This workshop series provides a context to explore how to empower our final transition. Death is not a medical emergency, it is a celebration and culmination of a life well lived and shared. This series takes preparation for end of life to a new level. The journey begins now. Monthly explorations at the Burbank Heights and Orchards.