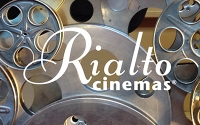 Rialto Cinemas 20th Anniversary Celebration

Tue, Jan 21 7pm $20
Limited ticket availability!
To Purchase Tickets Click HERE or visit our box office!



Join us as we celebrate 20 years of bringing the best films in the world to Sonoma County! Celebration includes a reception with hors d'oeuvres, wine and featuring Rialto Reel IPA by Barrel Brothers Brewing, followed by an onstage interview of Rialto founder and proprietor Ky Boyd with Press Democrat columnist Chris Smith. The evening concludes with a ceremonial toast and desserts!