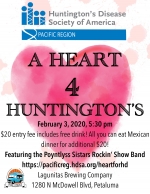 Bring your friends and family to Lagunitas Brewing Company in Petaluma and enjoy a dinner, beer(s)/beverages and live music by a local, popular band, The POYNTLYSS SISTARS Band. https://www.psband.net/main.htm

Relax from your Monday and support a great cause. To purchase tickets, visit: https://pacificreg.hdsa.org/heartforhd



$20 entry fee that includes a beverage. An all you can eat Mexican meal is available for $20. Beverages are available for purchase.





Help in the fight against Huntington's disease by supporting this Huntington's Disease Society of America (HDSA) fundraiser. The dollars generated by this event supports local resources available to families struggling with Huntington's disease in the San Francisco Bay Area.