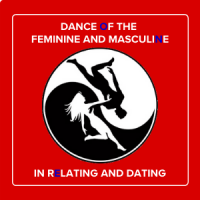 ***Event has been canceled***

Would You Like to Be More Attractive to the Opposite Sex?


Would You like to Feel More Confident Flirting and Expressing Romantic Interest?


Women: Would You Like to Feel More Feminine and Radiant?
Men: Would You Like to Feel More Masculine and Powerful?
If so... This class is for YOU!!!

In This Experiential Playshop You Will Learn:



The 3 Keys to Being Irresistibly Feminine in an Instant
The 3 Keys to Instantly Embody Masculine Power and Presence
The Masculine and Feminine Essence Traits
How to Create and Generate Attraction
To Tell When Someone is Attracted to You

In the second part of the playshop, you will be guided through a series of fun, experiential interactions where you will practice being irresistibly feminine or powerfully masculine and learn how to use these traits for playful flirting, increasing electricity and magnetism with someone you desire and being the most authentic and attractive version of yourself.

Are you ready to feel more confident, have more fun and be more attractive? If so...

Click Here, Get Your Tickets and Experience the Dance of Masculine and Feminine Today!!!

We are also having other events this weekend in Sebastopol:

Sacred Snuggle Sanctuary for High-Vibe Singles
Friday Feb 14th - 6:30 PM - 10:30 PM

The Dance of Masculine and Feminine in Relating and Dating
Saturday, Feb 15th - 1 PM - 4 PM

CONNECTED! Slow Speed Date Night for High-Vibe Singles (35 - 52 yr)
Saturday Feb 15th - 6:30 PM - 10 PM

CONNECTED! Slow Speed Date Night for High-Vibe Singles (50+ yr)
Sunday, Feb 16th - 1:30 PM - 5 PM

Register for The Dance of Masculine and Feminine and get a Half-Price Ticket to CONNECTED! Slow-Speed Date Night the same weekend!!!

Click Here and Come Play!!!


_________________________________________



What to bring



Comfortable, loose-fitting clothing
Extra blankets and pillows to make the space even more cuddly
A snack to share (optional)
Non-alcoholic beverages

We will provide filtered water for the event.

What not to bring



Expectations
Drugs/alcohol
Weapons of any kind

About Your Facilitators:

Together, Jan Robinson and Macaya Miracle have a combined 35+ years of training and experience teaching tantra, sacred sexuality, and energy healing. Their passion is to help you enjoy a life of unparalleled love, pleasure, joy and bliss.

Macaya Miracle is an Energy Healer/Teacher and Sacred Sexuality Educator from the Bay Area. He helps people open their capacity for more pleasure in all areas of their life through Tantra, Sacred Sexuality, Sexual Energy Healing and Awakening, Accelerated Light Energy Healing and intuitive counseling. He also helps women open their sexual energy and heal from sexual trauma so they can start openly living life and connecting to others in a way that brings them more bliss and joy than they ever imagined possible! Learn More about Macaya Miracle at http://beingjoy123.com/

Jan Robinson, M.A. is a speaker, best-selling author, tantra expert, and conscious sex and relationship mentor. For 20 years she has helped hundreds of women, men, and couples have and enjoy deeper, more fulfilling sex, love, and intimacy through the awakening of their most powerful energy of creativity and consciousness (i.e. kundalini). She is the founder of Multidimensional Pleasure, offering individual coaching and group trainings on the topics of womenís sexuality, relationship attraction, and manifesting the feminine way.

Receive your FREE downloadable Multidimensional Pleasure audio gift and schedule your complimentary "Breakthrough-to-Bliss" Discovery Session with Jan for your next best step toward creating the conscious relationship of your dreams at:
www.multidimensionalpleasure.com
Click Here and Come Play!!!