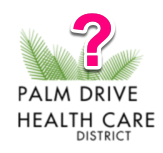 Wednesday, January 15, 2020
11:00 am and 7:00 pm
Sebastopol Public Library

The hospital is now sold. The Palm Drive Health Care District (PDHCD), which was the organization that operated the hospital, no longer needs to exist, especially with an annual budget of approximately $400,000-500,000 – from your tax payer dollars.

A public petition seeking dissolution is being processed. This is about transparent government and respect for taxpayers.

Come hear current and past board members share information, concerns and answer your questions.