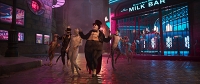 https://www.youtube.com/watch?v=gNTDoOmc1OQ

CATS
Golden Globe Nominee for Best Original Song, Andrew Lloyd Webber & Taylor Swift!
Cats is a most-unexpected film adaptation of Andrew Lloyd Webber's beloved smash musical Cats and the poems from Old Possum's Book of Practical Cats, by T.S. Eliot. Oscar-winning director Tom Hooper (The King's Speech, Les Miserables, The Danish Girl) brings astonishing new technology to transform his performers, who will be choreographed by visionary movement pioneer Wayne McGregor.
One of the longest-running shows in West End and Broadway history, Cats received its world premiere at the New London Theatre in 1981--where it played for 21 record-breaking years and almost 9,000 performances. The groundbreaking production based on T.S. Eliot's Old Possum's Book of Practical Cats was the winner of the Olivier and Evening Standard Awards for Best Musical. In 1983 the Broadway production became the recipient of seven Tony Awards, including Best Musical, and ran for an extraordinary 18 years.