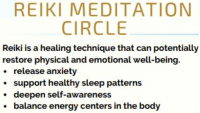 When

| | |
| --- | --- |
| Friday, February 28th; | 2:00 pm - 3:30 pm |
| Friday, March 27th; | 2:00 pm - 3:30 pm |
| Friday, April 24th; | 2:00 pm - 3:30 pm |
| Friday, May 29th; | 2:00 pm - 3:30 pm |

Where
167 N High St, Sebastopol
Cost
$10 for members ,$15 for non-members
Add to Google Calendar
Reiki Meditation Circle (Every 4th Friday!)
4th Fridays: 2:00-3:30 p.m.
Members: $10; Non-Members: $15**PRE-REGISTRATION IS REQUIRED FOR THIS PROGRAM**

As part of our mission to enhance the lives of all seniors, we are now offering Reiki sessions!

What is Reiki: Reiki is a healing technique based on the principle that the therapist can channel energy into the patient by means of touch, to activate the natural healing processes of the patient's body and restore physical and emotional well-being.

Reiki can support the easing of physical pain and discomfort, the releasing of anxiety, supporting healthy sleep patterns, deepening of self-awareness, as well as the restoring balance to your Chakras or energy centers of the body.What to expect in a session: You will be in an intimate group of no more than 9 people. The practitioner will place their hands on areas of your body that do not include the bathing suit areas. You may feel heat, tingling, and the movement of your own inner energies. This gentle laying of the hands can bring feelings of safety, relaxation and being completely cared for. Light refreshments will be provided during the session to support.

About the practitioner: Kristen Picard is a Reiki Master Teacher with a Masterís in Social Work and a Bachelorís in Metaphysical Science. She is the Vice President of a nonprofit that supports Traditional Healers in the community. How to register: Call 707-829-2440. Pre-registration is required for this program. Walk-ins may not be accommodated if spaces are full. MAXIMUM of 9 people per session. We are a scent-free environment.