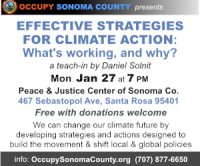 Occupy Sonoma County Presents

EFFECTIVE STRATEGIES FOR CLIMATE ACTION:
What's working, and why?

Monday, January 27, 7-9 PM

Peace & Justice Center
467 Sebastopol Ave.
Santa Rosa, CA 95401

free with donations welcome

Time is running out; we can't afford ineffective approaches to the climate crisis.

This workshop will provide a brief overview of where we are in the climate movement and look at the key targets for slowing or reversing climate change.

We will explore the most successful climate strategies and tactics for building our movement, shifting government policies and corporate practices, while changing the public discourse on climate.

Presenter Daniel Solnit is a union organizer, campaign strategist, and social change activist with 40 years of experience.

These strategies can be applied to a number of issues.

For more info contact: http://OccupySonomaCounty.org or call 707-877-6650 (website contact preferred).

Occupy Sonoma County embraces the egalitarian, deep democracy principles of the Occupy Movement with a regional strategy for effectively organizing countywide social justice campaigns that are globally relevant.