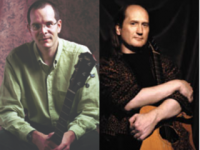 Friday, December 6, 8 PM
Global Guitar Summit
Wu Wei Tea Temple
1820 Sir Francis Drake Blvd.
Fairfax, CA
No cover. Suggested donation: $10 - $20.

Info: wuweiteatemple.com Facebook Event

Ancient Future leader and guitarist Matthew Montfort and German fingerstyle guitarist extraordinaire Teja Gerken return to the Wu Wei Tea Temple in Fairfax for an evening of music from around the world.

Matthew Montfort is a pioneer among guitarists who have had their fretboards scalloped in order to play various forms of world music that require intricate note-bending ornaments while still being able to play chords.

Teja Gerken is known for his original compositions, many of which employ alternate tunings and two-handed tapping. His playing merges the styles of European guitar pioneers such as John Renbourn and Pierre Bensusan with the distinct sounds of American players such as Leo Kottke and Michael Hedges.