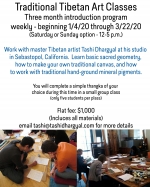 Tashi will begin teaching a weekly thangka class starting in early January. There is a limit of five students per class, and a Saturday or Sunday option is available. The class meets from noon-5:00pm once a week for three months, and includes materials.

Tashi previously taught limited classes at his Tibetan Gallery & Studio in the Barlow. When the thanbhochi was completed, it was donated to HH the Dalai Lama and was displayed at the end-of-year teachings in Both Gaya, India.

This is the first class series he has offered in more than two years, we hope you can join! Please email Tashi directly with any questions -- tashi (at) tashidhargyal .com

Students will prepare their own traditional canvas, and paint a thangka of their choice with traditional hand-ground mineral pigments.