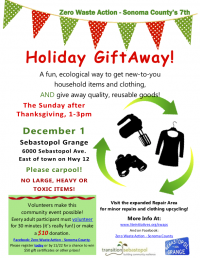 Zero Waste event! HOLIDAY GIFTAWAY & CLOTHING SWAP



A fun, ecological way to get GIFTS and new-to-you clothing
AND give away good unwanted items!

Reusable gift items and household goods welcome!

Visit the expanded Repair Area
for minor repairs and clothing upcycling!

Volunteers make this community event possible! Every adult
must volunteer for 30 minutes (itís really fun!) or make a $10 donation.

Help is needed with Promotions, Cardboard Box Collection, Set-up,
Kidís Area, Monitoring, Clean-up and Hauling.

Carpooling recommended. Thanks!