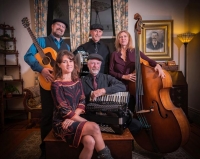 "SonoMusette in Concert" will recapture the sound and spirit of 20th Century Paris in Sonomusette's second appearance at the New Cotati Cabaret at Congregation Ner Shalom, 85 LaPlaza, Cotati on Saturday, December 14 at 8PM. The concert is a fundraiser for Ner Shalom.

French chanteuse, musette accordion, guitar, piano, upright bass, and drum kit combine to revive the evocative songs of the era.



Sonomusette comprises vocalist Mimi Pirard, Jan Martinelli on bass, Robert Lunceford on accordion, Jason Briggs on guitar and Richard Andrews on drums.

This concert is the second of three in the New Cotati Cabaret's Fall/Winter series. The next concert will be The Musers on January 20, for which student tickets will be available.

Tickets are $25 General Admission, $35 VIP, and may be purchased at shalomevents.org or by calling Ner Shalom at (707) 664-8622. Discounts for those impacted by 2017 – 2019 fires are available thanks to a grant from the North Bay Wildfire Recovery Fund of the combined Jewish Community Federations of San Francisco Bay Area and the East Bay.