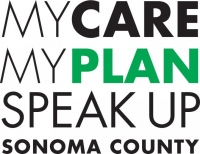 Prepare for a Medical Emergency at a Free Advance Care Planning Workshop October 29



Advance care planning is the process of thinking through, talking about and documenting your healthcare wishes and priorities before a medical crisis occurs. By completing advance care planning now you and everyone in your household over age 18 can be ready then.

My Care My Plan: Speak Up, Sonoma County will host a free workshop to help adults complete advance care planning. Who Will Speak for You If You Can't Speak for Yourself? will be held Tuesday, October 29, 2 – 4 p.m., at Redwood Credit Union, 3033 Cleveland Avenue, Santa Rosa.

There are three ways to register for the free workshop:


Participants will learn about the types of care they could choose in a health crisis, and how to make their choices clear through thoughtful, written advance health care directives. They'll learn how to choose the best person to represent their wishes in a crisis, and how to have clear, caring conversations with loved ones and healthcare providers about their choices and treatment options.

"In my practice, I see the burden families face when they must choose a treatment strategy for a loved one in crisis. If they've never had conversations with them about the things that matter most to them in the context of life-threatening illness, the stress is so much more," says Gary Johanson, MD, Medical Director, Memorial Hospice and St. Joseph Palliative Care Services.

"It may feel awkward to start that 'what matters most' conversation," adds Dorothy Foster, LMFT, and co-chair of My Care, My Plan, "but it's a conversation you want to have on your own time – rather than under pressure in a hospital emergency room."

Johanson and Foster will lead the October workshop for anyone over age 18.

My Care, My Plan: Speak Up, Sonoma County's (MyCareMyPlanSonoma.org) vision is for every adult in the county to become educated and empowered to express their wishes about end-of-life care, to have the opportunity to do so, and to have their wishes honored in a medical crisis.

This is an initiative of the Committee for Healthcare Improvement and Sonoma County Health Action, which mobilizes community partnerships and resources to achieve equity and improve health for all in Sonoma County. MCMP is a collaborative of organizations and individuals from the private, public, nonprofit and volunteer sectors, including local healthcare and social service organizations and other community partners.