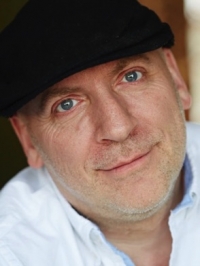 Internationally acclaimed, multi-award winning British songwriter, broadcaster and musical storyteller Daniel Cainer will bring his musical bittersweet reminiscences, "Daniel Cainer's Weird & Wonderful Jewish Midlife Crisis," to Congregation Ner Shalom, 85 LaPlaza, Cotati for another of the congregation's 'Big Night Out' entertainment series at the New Cotati Cabaret, from 7:30 – 9PM on October 12. The performance is a benefit for Ner Shalom.

The multimedia show is based on up-close and personal stories of what's it like to be Jewish and British, then and now. Smart, funny, timely and only slightly irreverent, Daniel Cainer's deeply moving tales about his family and observational comedy are a joy, crafted with brilliant rhyming and wordplay, great musicianship and memorably haunting tunes. His songs and his music are for anyone who has ever wrestled with their home, their heritage and their heart.

A stalwart of the Edinburgh Fringe for the last 14 years, he won the prestigious Three Weeks Editors Award in 2013 and in 2017 the Galway Fringe Award for Excellence. Selected three years in a row for the off-Broadway SoHo Playhouse 'Best of New York and Edinburgh Fringe Season' and also voted a 'Highly Recommended Show' by Fringe Review for the last three consecutive years, who say of Daniel: "What is genius about Cainer, is that he takes quite an intense look at big issues in a show that never feels heavy. He uses plenty of humour - spoken, shown visually, and sung -to explore what it means to be a Jew in the 21st Century. Powerful questions are asked with deceptive lightness and that creates an evening that is emotional, funny and, most of all, engrossing and entertaining."

A musician since childhood, Cainer has composed music for documentaries and dramas for all major UK networks, and has produced and performed with top artists at major studios including Abbey Road.
Praise for Daniel Cainer:
'An extraordinary performer... at times heartbreakingly poignant, at others, laugh-out-loud funny. Utterly charming, thoroughly recommended.' Edinburgh Festivals Magazine

You don't have to be Jewish (or British) to get a kick out of Cainer LA Times
Lovingly detailed shaggy dog storytelling! Time Out, New York
Honest, edgy, touching and unpredictable The Jewish Week, New York
A true pleasure The Stage, London
A must see! Daily Mirror, London
An extraordinary performer. At times heartbreakingly poignant, at other times
laugh-out-loud funny. Utterly charming, thoroughly recommended Edinburgh Festivals Magazine

Cainer can be seen here: How We're Blessed" – a philosophical look at what it is to be humanshalomevents.org or by calling Ner Shalom at (707) 664-8622.