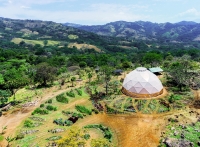 Join an audience of forward-thinking community-oriented participants and Alegria Village Co-founder Kara Alter in a conversation of what it means to design our lifestyles to be regenerative - to heal our planet, not destroy her.

At this evening gathering, we'll take a look at the deep-rooted systems we mindlessly support that cause separation and extraction, offer alternatives and strategies for change, and discuss models of community living as a regenerative solution.

It's time we come together to radically question the way we live and share visions, examples, and solutions that we can all start implementing NOW.

As such, Kara will also share the process of launching a land-based, regenerative "ecovillage" from scratch that was followed with Alegria Village from vision to the masterplan, fundraising, permitting, construction, project management, and attracting and unifying community.



We look forward to having you join us and sharing from your unique experience! Together let's work together to build systems, communities, and lifestyles that REGENERATE our planet.