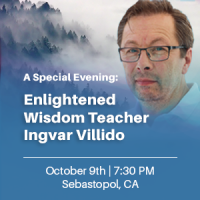 We might think we can't have both profound inner spiritual growth while also achieving outer success in the world, however, the paradigm is shifting and new wisdom is now becoming alive so we can live holistically from our truest self.



Learn about the autopilot behaviors, conditions, and blocks that prevent us from living in the primacy of our highest conscious potential along with our supernatural conscious qualities for happiness, success, and self-liberation.


Europe's renowned modern self-realized teacher, best-selling author, and Kriya Yoga Master Acharya, Ingvar Villido (Ishwarananda) will be flying in from Europe for a special evening on what it means to live a self-realized life as a productive spiritual human out in the world. He will discuss the main obstacles that get in the way and how to overcome it through logical, practical, and effective means.



In addition, Ingvar will demystify the common myths, concepts, beliefs and theories people have on the subjects of consciousness, self-realization, pure awareness, spirituality, and universal wisdom. Self-realization and actualization is available and accessible to everyone in this life, not just the yogis and saints.


_______________________

About Ingvar Villido

Ingvar Villido, a teacher, researcher, and bestselling author who combines wisdom traditions with scientific knowledge and empirical research to be accessible, logical, and practical for everyday people. He's described as the Leonardo da Vinci of consciousness. After incubating his teachings in Estonia, he's on a mission to help humanity reach our highest potential.

Ingvar holds the rare distinct honor of being an Acharya of Babaji Kriya Yoga along with other prestigious spiritual recognitions in Hinduism, Buddhism, Dzogchen, among others. The roots of Ingvar's approach are based in deep yogic science, particularity from the ancient Siddha traditions, which have been practiced among yogis in ancient India for over thousands of years.

Ingvar is best known for creating the course: The Art of Conscious Change described as a "revolutionary new teaching for humanity" by European media. Ingvar is also the founder of The School of Practical Awareness, an internationally recognized awareness school; Human 2.0 - a consciousness-based educational platform, and Lilleoru; an eco-village and Kriya center.

After the result of intense personal practice between 1981-2000 Ingvar underwent a series of "inner transformations". Since then he has remained in the "lasting state of deep peace and bliss". He serves the mission to upgrade people to "awareness as a new paradigm" by providing knowledge and methods to liberate all humans from internal automatic reactions of emotions and thoughts to living free with the primacy of consciousness.

Ingvar's teaching career spans over 25 years, 3,000 lectures and 15,000 students from around the world, including European business, medical, mindfulness, and educational thought leaders testifying to the success of his work. In 2017, Human 2.0 was chosen as Estonia's most successful educational company. Ingvar authored the domestic bestseller "Emotions. Humanity's Biggest Addiction" and is recognized for his seminal pioneering research in "Awareness as the New Paradigm for Personal Sustainability."

Address will be provided with ticket or RSVP to [email protected].
Presale tickets advised at the this event might sell out.