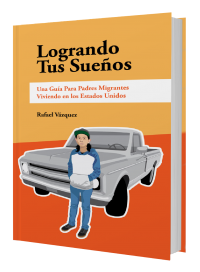 Immigration Topic at Roseland and Northwest Libraries for Hispanic Heritage Month





Rafael Vázquez

, author of "Reach Your Dreams: a guide for immigrant parents living in the United States," will speak at 2 libraries:





Roseland Community Library:

Saturday, September 28, at 2 p.m.

Northwest Santa Rosa Library on Monday, October 7, at 7 p.m.




Free copies of Rafael's book (in Spanish) will be available at the event, while supplies last. The conversation, "Achieving Your Dreams," will cover topics such as

those left behind due to immigration, how to preserve Latinx cultures and the challenges faced by immigrants. The program will be in Spanish with an English interpreter.






Vázquez

wrote the book (available only in Spanish) to assist parents who immigrated to the United States prepare their children for success. The book has information on how to plan and save for university and ways to avoid drugs, gangs and other behaviors that could prevent success.






Vázquez

teaches in the Humanities and Interdisciplinary Studies Department at Santa Rosa Junior College (SRJC) as an adjunct faculty. Additionally, he is the outreach program coordinator for Extended Opportunity Programs & Services (EOPS) at SRJC. EOPS is a program that helps full-time, low income, educationally disadvantaged students achieve their academic goals. He has also taught at Sonoma State University's Chicano and Latino Studies Department.





Both events are free and open to all.