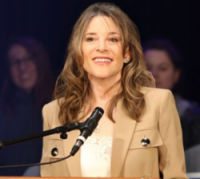 Help Make a Political Miracle
Tuesday, Sept. 17th @6:30pm


This is a MeetUp for people in Sonoma County who would like to Volunteer for Marianne's Williamson's Campaign. Led by Campaign Staff member Rita Forte (Regional Field Organizer) and hosted by Abraham Entin and Jim Corbett , this meetup will begin to gather and galvanize Volunteers who want to support, get active and connect with the campaign and others in the area.

We will:
1. Give some talking points and info about the campaign
2. Have some promo materials and resources to support the campaign
3. Start talking Bay Area Regional ideas, goals and more.

The MeetUp will be near downtown Sebastopol.
Email

[email protected]

to RSVP and to get the address.
Can't wait to see you there!