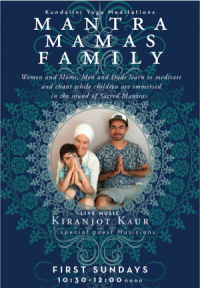 MANTRA MAMAS FAMILY
Everyone is welcome and Childcare is Provided!
First SUNDAYS


10:30 am-12 noon


YOGA STUDIO GANESHA


138 Weeks Way, Sebastopol





​Sliding Scale Donation


Reserve your space

[email protected]



Mantra Mamas

is the creation of Kiranjot Kaur, a northern Californian musician, artist, and teacher. It is the culmination of the three most powerful eras in her life: writing and performing in the indie feminist music group Copper Wimmin, completing a five year study in classical Indian music in the Sikh capital of Amritsar, India and becoming a mother to her son. The course is designed to provide a meditative outlet where women and mothers can learn to sing sacred mantras while also being inclusive to their children. Each woman can walk away with the benefits of meditation, mantra singing, and connection to a group of supportive and creative peers. Children get to absorb the music and positive energy... And even play a few keys on the harmonium at the end of class.



Kiranjot Kaur

is a Sebastopol native, and internationally recognized musician and teacher. Coming from a long family line of creatives, she first received her degree in fine arts from California College of the Arts and was a founding member of the music group Copper Wimmin. They were featured on Amy Goodmans NPR program

Democracy Now

and their song

Bleeding Rivers

was featured on the Showtime television series

The L Word.

While writing and performing in Copper Wimmin, Kiranjot used Kundalini Yoga and meditation as a centering practice to fuel her creativity, health and happiness. In 2006 Kiranjot refocused her career around classical Indian music and spent five years living and studying under the guidance of her beloved teacher Ustad Narindar Singh in Amritsar, India.

Mantra Mamas

and

Voice as the Divine Instrument

are Kiranjot's most recent creative offerings to communities of international women and men. She has taught throughout South America and is happy to finally be bringing these classes back home. Also in the works is an upcoming solo album.