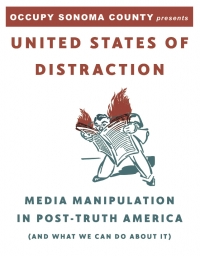 Please share this announcement with your mailing lists and friends. Download this flyer to post on bulletin boards. Thank you!​

Occupy Sonoma County Presents



UNITED STATES OF DISTRACTION
MEDIA MANIPULATION IN POST-TRUTH AMERICA
(AND WHAT WE CAN DO ABOUT IT)



Monday, September 23, 7-9 pm

Peace and Justice Center of Sonoma County
467 Sebastopol Ave, Santa Rosa, CA 95401

Free with donations welcome

Presenter Mickey Huff, professor of social science and history at Diablo Valley College, director of Project Censored & co-host of the weekly KPFA Project Censored Show, will discuss his new book: The United States of Distraction

"The U.S. wouldn't be able to hide its empire in plain sight were it not for the subservient 'free' press. United States of Distraction shows, in chilling detail, America's major media dysfunction—how the gutting of the fourth estate paved the road for fascism and what tools are critical to salvage our democracy." —Abby Martin, The Empire Files

"The role of news media in a free society is to investigate, inform, and provide a crucial check on political power. But does it? —Mickey Huff

For more info contact: http://OccupySonomaCounty.org or call 707-877-6650 (website contact preferred).

Occupy Sonoma County embraces the egalitarian, deep democracy principles of the Occupy Movement with a regional strategy for effectively organizing countywide social justice campaigns that are globally relevant.