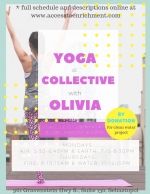 Karuna Flow YOGA

with

Olivia Josephine

at Collective in Sebastopol



Karuna Flow

: An evolved, integrative, holistic Vinyassa style of yoga steeped in compassion, intention, and sanctity. The classes are mindfully designed to be accessible to all, with an emphasis on functional anatomy, organic flow, breath/body/mind connection and union.





Schedule

for

August 2019:





Mondays, 5:30-6:45 pm

: AIR- Slow karuna flow with breath awareness highlighted. Emphasis on creating space in the body and gently exploring our capacity to stretch ourselves.





Mondays, 7:15-8:30 pm:

EARTH- A gentle practice incorporating poses with longer holds; Yin/Vin. Super accessible, with an emphasis on relaxation and grounding.





Thursday 9-10:15 am:

FIRE- A stronger more challenging practice that builds heat and strength while moving stagnant energy and transforming the body.





Thursday 11am-12:15pm:

WATER- Slow karuna flow with commUNITY tea ceremony following practice. Come meet your community in practice!





*As an introduction, for the month of August, classes are offered

by donation/give what you can

with ALL proceeds going towards building a water well for a community in need of accessible clean water in Ebonyi State, Nigeria.




Please come discover if these classes are for you!





* Please bring your own yoga mat! All other necessary props provided.



About the instructor:


Olivia Josephine, CYT, is a well-rounded and devoted yogi with a background in holistic health and philosophy. She has practiced yoga for over 10 years and pulls from her many years of travel and exploration; both inner and outer! Olivia is also trained in herbalism, medicinal aromatherapy, reiki and energy work, meditation, dance practices and other therapeutic modalities. She is "a deep dark well with a surface of dappling sunlight;" meaning, she offers depth and wisdom, presented with a light-hearted and loving energy. Her intention in guiding yoga classes is to craft well-rounded and thoughtful sequences which provide students with a progressive experience of holistic well-being. She creates a peaceful and safe environment for you to come explore yourself on the mat and build your strength, flexibility, and energy.